Local Missions We Support
Making A Local Impact
Community United Methodist Church supports many missions both locally and around the world through the greater United Methodist Church. Locally, we have committed to financially supporting the Tri-Area Food Bank, Ecumenical Christian Helping Hands Organization (ECHHO) and Olympic Community Action Program (OlyCAP). On a rotating basis we send a monthly check that is supplemented by individual contributions and special fund raisers. Our "spare change" approach has proven very successful because all it requires is your pocket change which, when combined with everyone else's contributions, really adds up. We also encourage our members to volunteer with these and other worthy non-profits that do so much for our local community.
Other Missions We Support
Community Men
Breakfast and Fellowship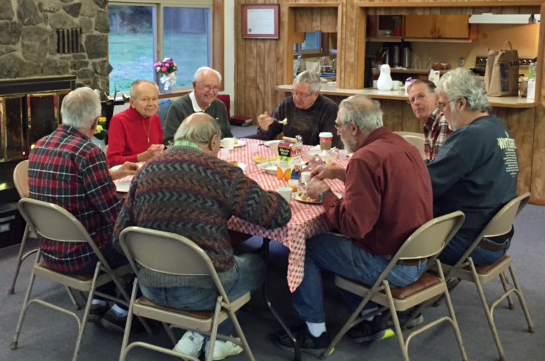 The Community Men meet monthly on the fourth Saturday of each month for breakfast and fellowship where we discuss our leadership roles as men within the church and have a short devotional.
United Methodist Women
A Community Of Women
The organized unit of United Methodist Women shall be a community of women whose purpose is to know God and to experience freedom as whole persons through Jesus Christ; to develop a creative, supportive fellowship; and to expand concepts of mission through participation in the global ministries of the church.
Meetings are the first Thursday of each month at 10:00 a.m. at the church.
An Open Door For Recovery Groups
A Message From Pastor Scott Rosekrans
During my 35 plus years in the criminal justice system as a police officer, defense attorney and prosecutor I have seen first-hand how alcohol and drug addiction impacts the addict, their loved ones and society in general. Most recently, I was an elected Prosecuting Attorney who participated in a Drug Court. My interactions with these remarkable people caused me to realize that there is a real person struggling to get out and escape the hell they are experiencing. In the United Methodist Book of Discipline under Social Principles (paragraph 162 L) the Church states that it supports educational programs as well as other prevention strategies encouraging abstinence from illegal drug use. The Church holds that drug-dependent persons and their family members, including those who are assessed or diagnosed as dependent on alcohol, are individuals of infinite human worth deserving of treatment, rehabilitation, and ongoing life-changing recovery. Community United Methodist Church is committed to assisting those desiring recovery in any way we can and have gladly opened our doors to provide safe and secure places for recovery groups to meet.